Story and Photos By Jeremy Jones
The first DEEPER AK basecamp in 2009
DEEPER will always be the film I am most proud of. After filming dozens of movies using helicopters and snowmobiles, the thought of giving up my primary means of access to film DEEPER on foot left me with a lot of anxiety.
At first the goal was just to do one foot-powered glacier trip in Alaska that would be featured in a traditional snowboard movie. The two years before DEEPER this glacier basecamp was the trip I was most looking forward to each winter. Sadly, the much anticipated plans never worked out. The film crew I was working with at that time was not down with it. Sunny days in Alaska were too precious and too few and far between to spend time setting up and living out of a remote basecamp. There was also the thought that filming movie quality lines with a heli was hard enough. Filming from a basecamp on a glacier sounded foolishly improbable to many people. How would we charge batteries? Will our lenses fog up camping on the glacier? How will we climb over bergschrunds? I didn't have answers to any of these questions yet, but I was sure expedition filming like this could be done.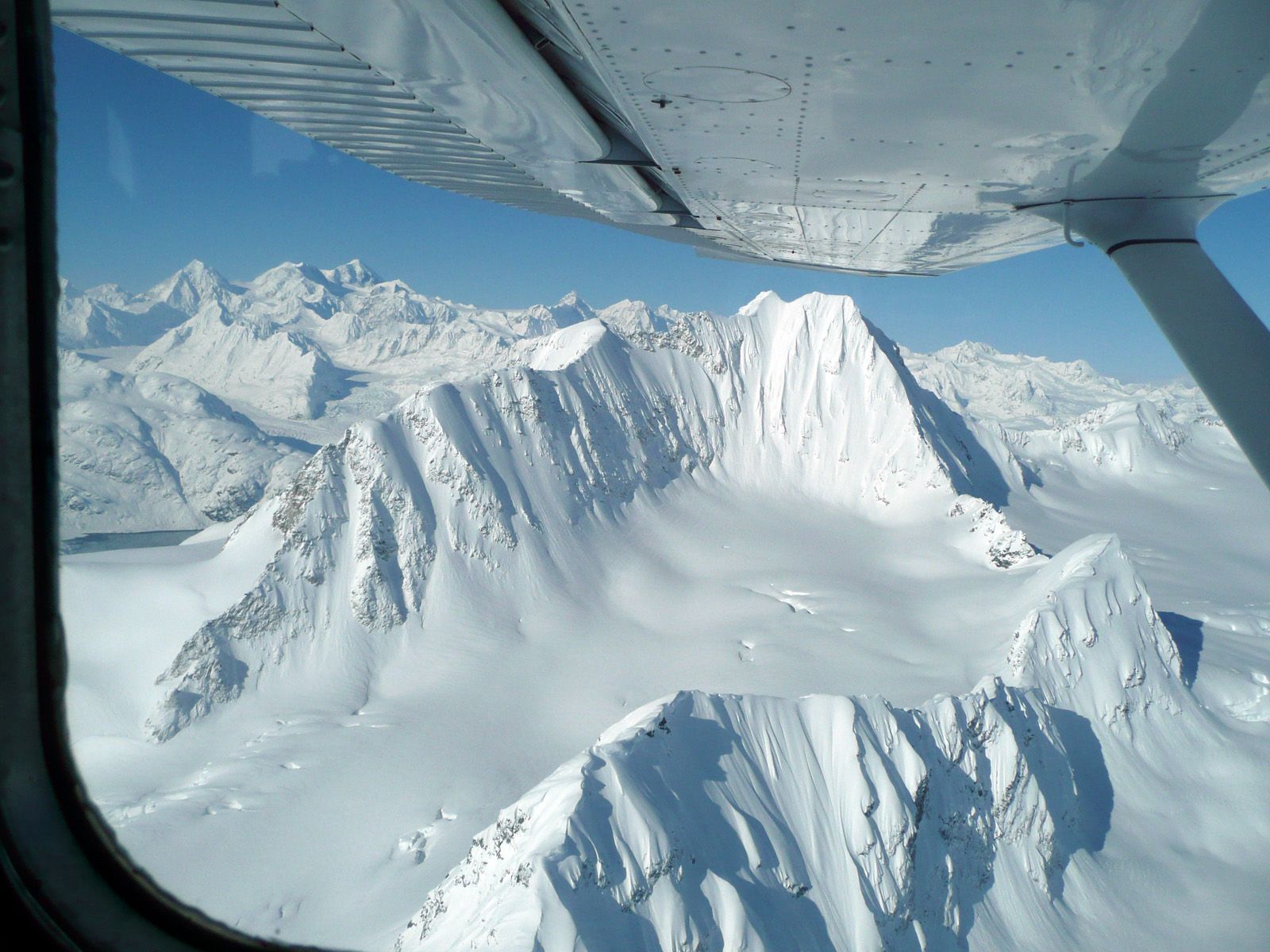 Scouting for potential camp locations on a recon flight with Drake Olson.
When I finally made what felt like this career ending jump off a cliff I was at the prime of my career doing the best snowboarding I had ever done. I think a lot of people thought I was crazy and maybe taking the eco thing too far. What they didn't realize is that the main reason I wanted to forgo machines is because we were very limited by the boundaries of where we could take those machines. My goal wasn't to make a hippy split board movie. The goal was to ride the best lines of my life on the world's most magnificent, untouched peaks and continue the progression of challenging myself as a rider.
In 2006 I met Chris Edmands while filming for his groundbreaking movie 'My Own Two Feet'. Chris is a long-time snowboard filmer who felt the same call of the wild I did and decided to act on it. 'My Own Two Feet' was the first 100% foot-powered snowboard film. Working on MOTF made me realize that if I wanted to keep pushing the limits of filming foot-powered freeriding I was going to have to start my own project. I had never wanted to organize my own film project before but now it felt like the only answer to achieve my snowboard dreams.
Chris Edmands in Glacier Bay AK tent city.
In 2008 I started filming DEEPER with Chris as the lead cinematographer. Raising a film budget was especially hard the first year so we kept it local and shot most of the winter in the Sierra. Shooting in the Sierra went well, but the big test was still to come. The basecamp trip to Glacier Bay National Park in Alaska was finally going to happen.
As we got closer to the AK trip the stress grew. We were staying in the same hotel as the TGR heli crew, and after a week of bad weather, the skies finally cleared. I watched as the TGR heli crew filed out. Chances were good that they would be standing on top of their first line of the day in less than an hour. Our crew would be lucky to make it to camp that day.
By 11am I was flying through the heli zone in Haines, but this time inside a single-prop plane, not a heli. We passed Dr. Seuss, Hotel Room, Tomahawk and Brothel, all epic lines that were in perfect shape. "Am I crazy? What am I doing?," I thought to myself as I saw tracks from the TGR and Absinthe crew's morning session written on some of the best lines in the range. Thankfully, the worry wouldn't last long.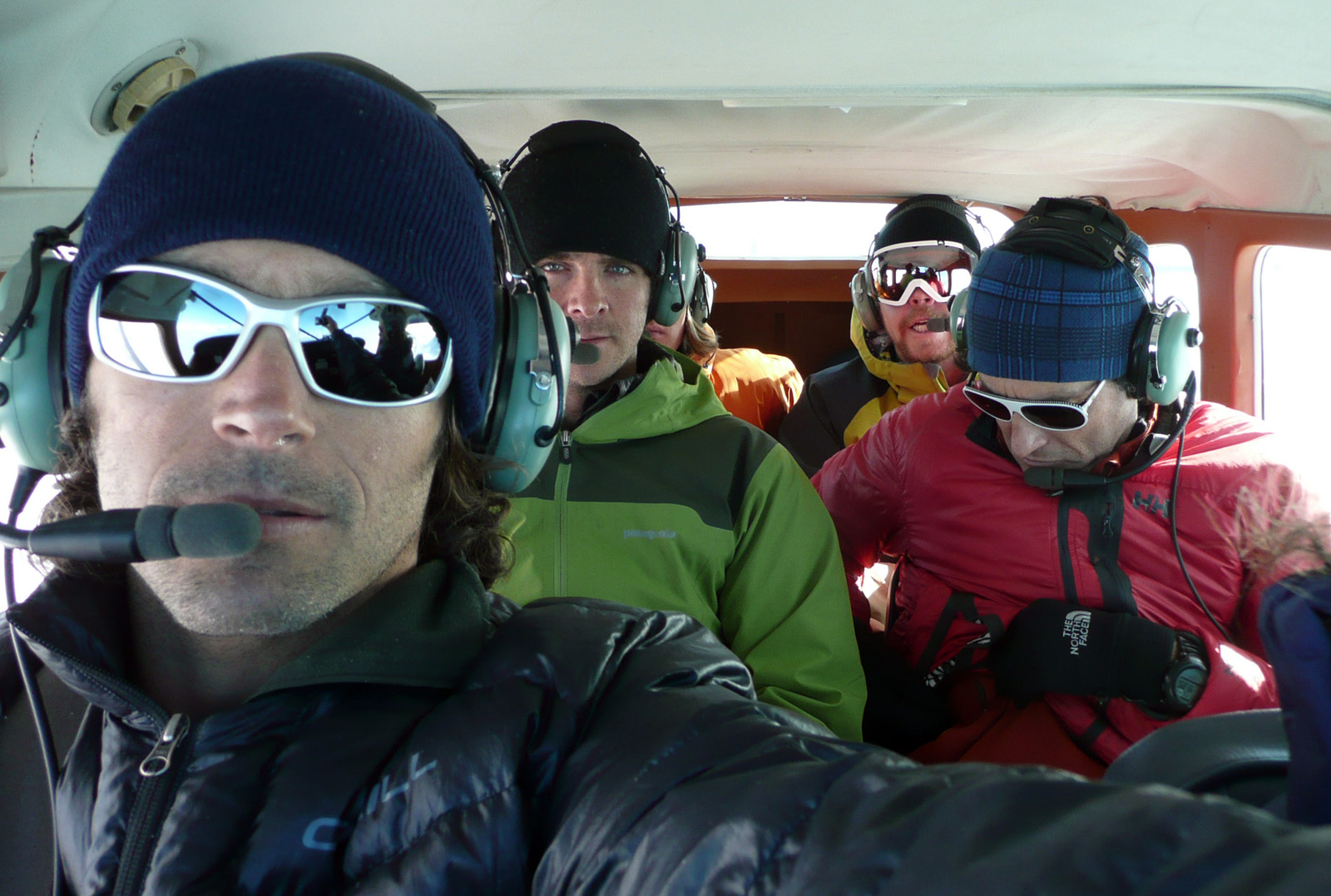 Enroute to basecamp with Tom Burt, Chris Edmands, Travis Rice and Johan Olofsson.
All anxiety vanished as I crossed from the explored to the unexplored. We flew for another 50 miles passing unnamed peak after unnamed peak before landing on the edge of Alaska. Just like that, the thought of needing a helicopter vanished from my brain. Everything made sense. The silence, freedom and excitement that hit as I watched the plane drift into the horizon was as enormous as the landscape I now called home. This was exactly where I was supposed to be. That evening, with camp set and the mountains turning pink, we roped up on a glacier for the first time in my life and skinned up to a low saddle. Looking over camp and our new playground the silence was broken by Jonaven Moore, "This is the coolest thing I have ever done." I couldn't have agreed more.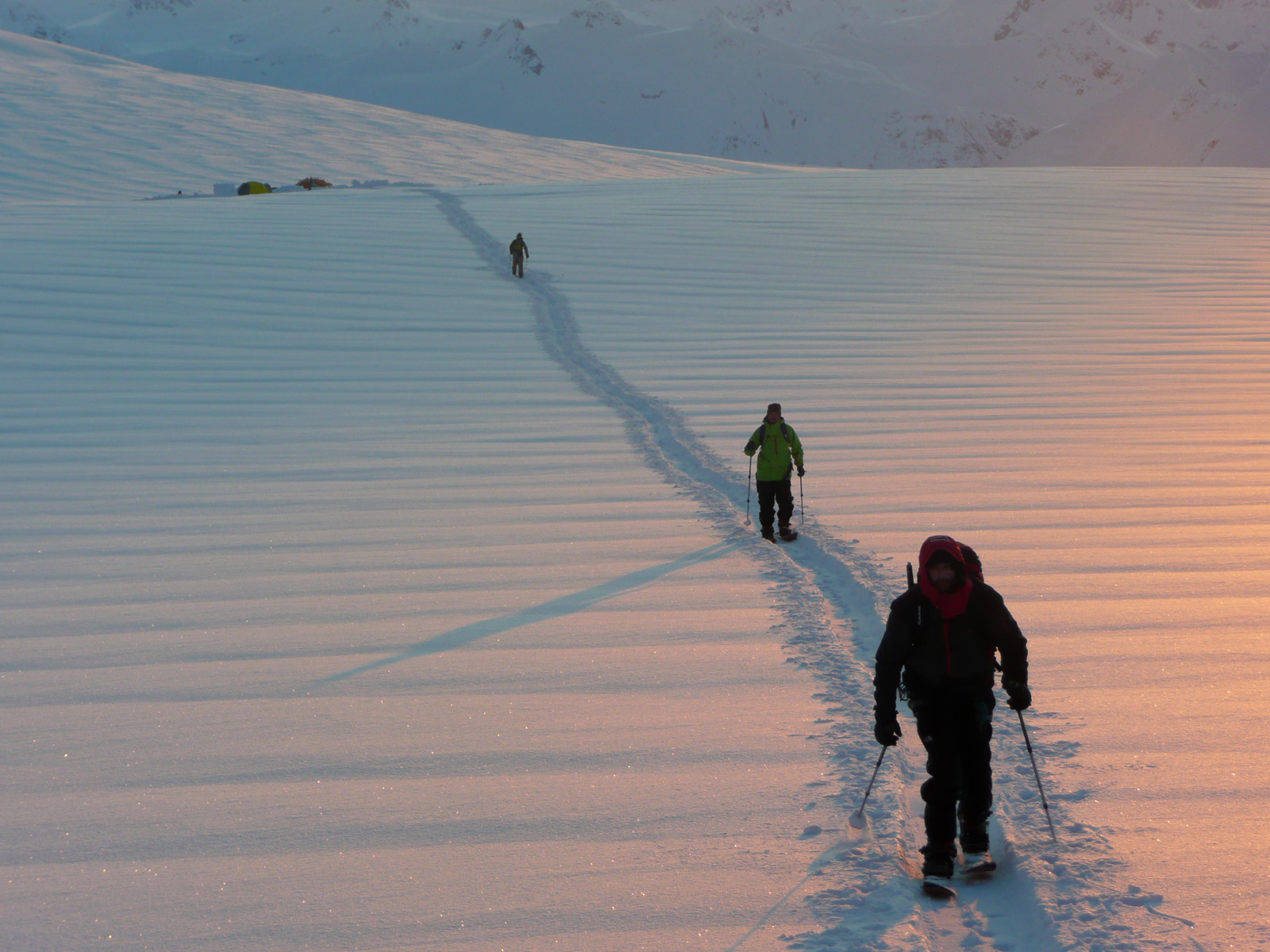 Alpenglow touring on the glacier.
We had no idea what we were in for. The plan was to session the forecasted five-day weather window and then move to a new location or even head back to town. To be on the safe side we brought ten days of food. Little did we know we were in for a 25-day trip and over 15 days of bad weather. The riding was good right out of the gate, and we rode some amazing terrain in those first few weeks, but it was not until day 23 that I got on what I would consider a heli-level "trophy line". Two days before breaking camp I climbed and rode a line that I named "McConkey's" in honor of the recently fallen Shane McConkey.
Mt.McConkey standing proud above camp.
Flying off the glacier at the end of that trip it was official - the dream had changed. For the past decade the dream had been to spend as much time as possible in a helicopter. The new dream was to hike everything I rode and return to a tent at the end of the day, not a hotel room.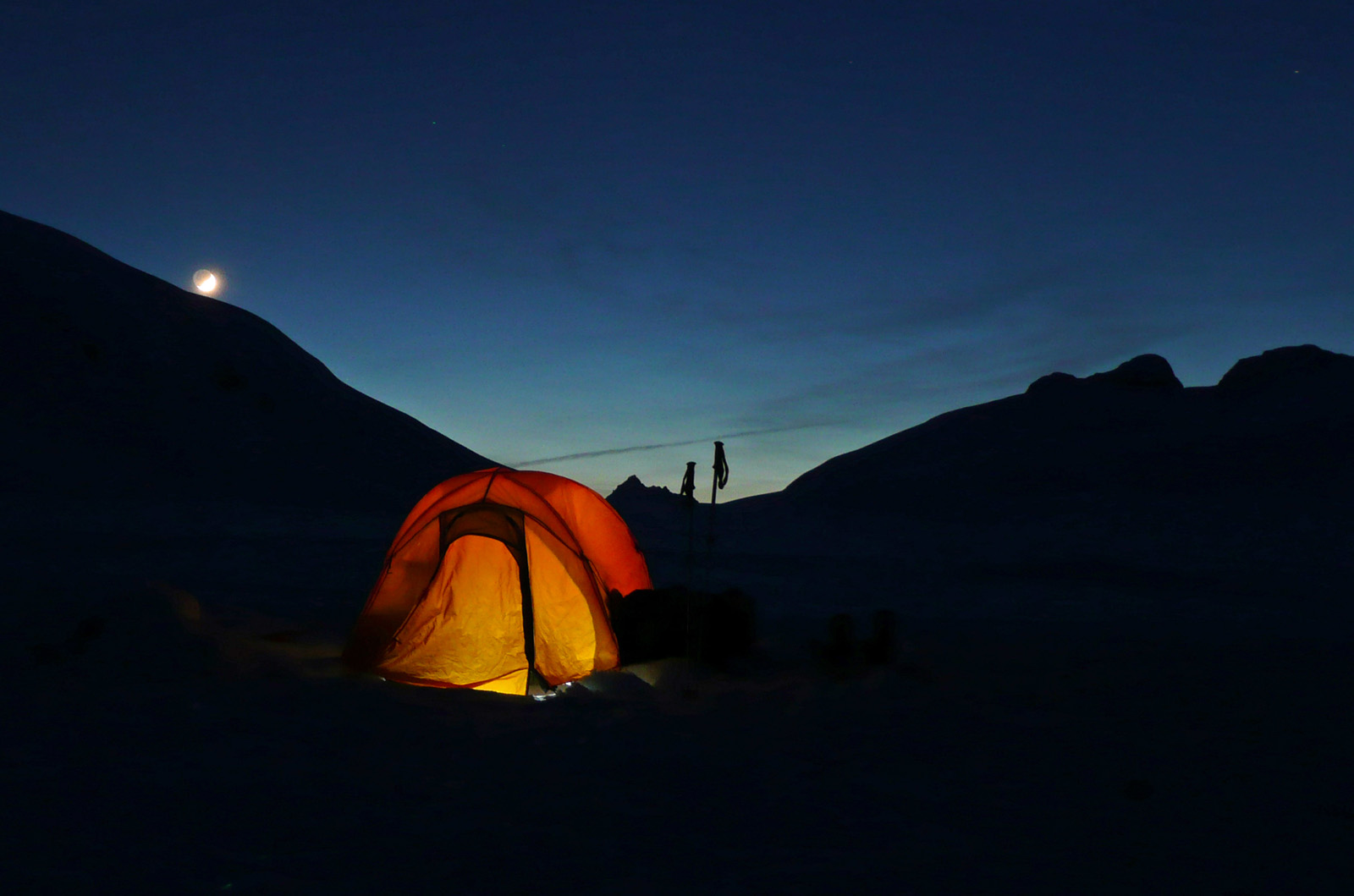 As it turned out, the new dream was much harder to achieve. It required cold, dark, pre-dawn starts and riding lines with frozen feet and heavier backpacks. It also required a lot more time. The tradeoff was that the rewards of the new dream were a lot more fulfilling and it cost a lot less money to make a film on foot.
That first trip into Glacier Bay National Park would be a pinnacle moment in my snowboarding career. Right up there with my first time on a board, the first day my local resort allowed snowboarding, my first tram laps in Jackson Hole and my first run in AK. But the real significance of that first AK basecamp trip was not the lines I rode on that trip. The significance was how it affected my future and how drastically it changed my perspective on what was possible in the mountains. All boundaries disappeared, the options became endless and there was no place in the world that was too hard to get to.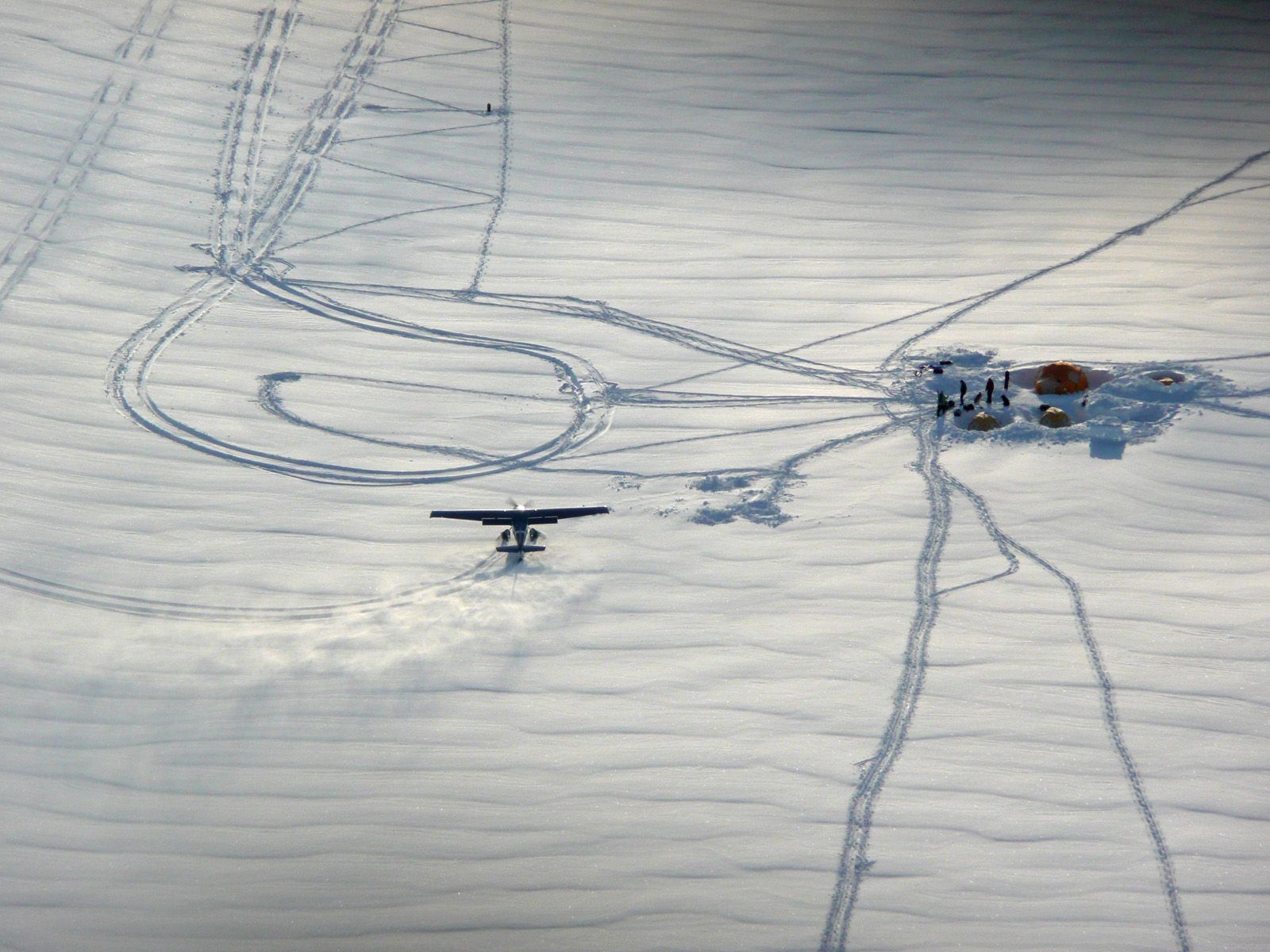 A huge thanks to the first DEEPER AK crew who believed in the mission as much as I did: Travis Rice, Jonaven Moore, Tom Burt, Johan Olofsson, Chris Edmands, Dan Milner, Garry Pendygrasse and pilot Drake Olson for delivering us to the promise land.