Stoked to share a trip report from American Avalanche Institute Instructor and Bozeman splitboard guide Clark Corey. Clark is one of the most prolific splitboarders in the Northern Rockies and has explored all over Idaho and Montana on a Jones Solution. Here's a report from an adventurous line he found last season in the Spanish Peaks of Montana: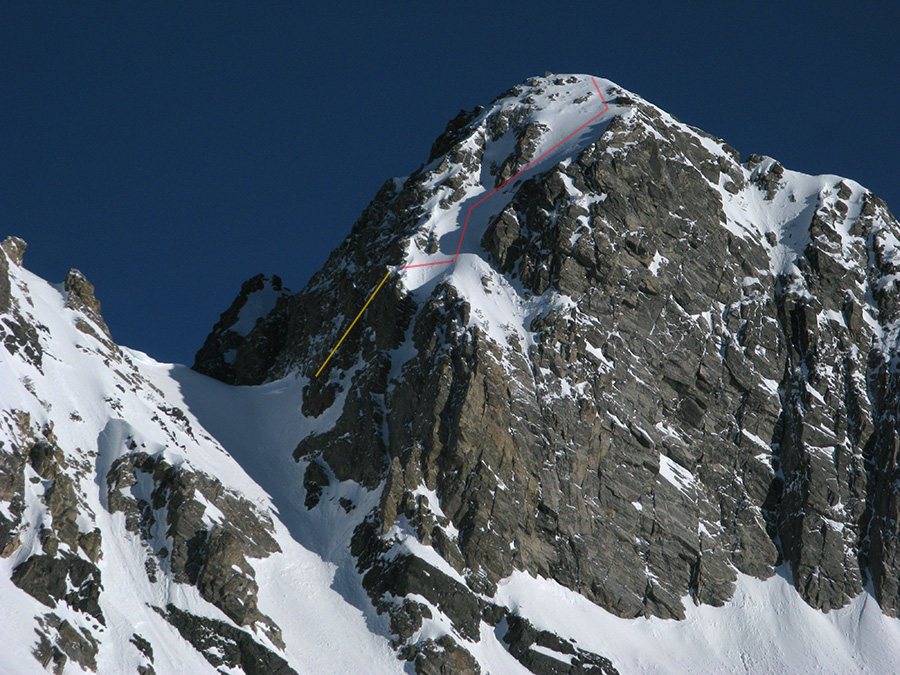 South face of Beehive Peak
Story and Photos by Clark Corey
Some lines draw your attention because they are plum, clean, obvious and meant to be. Others perk your interest because of the mystery, because they do not go clean and you wonder how it would go down and in some cases how you would get off. These are fun because it involves creativity, a sense of adventure, and sometimes a sense of humor. The South face of Beehive Peak in Montana would be one of those lines.
Last season, long time ski-partner Drew Pogge and myself got to explore one line which we'd wondered about for several years on Beehive. The South face is really just a hanging ribbon of snow which skirts a 600 foot sheer rock face before abruptly ending in outer space. Not a whole lot of room for riding, but plenty of room for imagination and "what if's?". On some years the line isn't filled in at all, and other years only for a short period of time.
On numerous occasions while riding various lines off and around Beehive we'd looked up and wondered; always trying to imagine how it would feel and where you would exit. Then one day I was talking with ski legend Tom Youngst about Beehive (who had pioneered other lines on the peak) and he mentioned the line. He too, had wondered about it, and always "imagined what it would be like", but had never gotten around to it in his hay day. Although he didn't have an intentions of skiing it now, he was clearly still excited about it and his enthusiasm was infectious. Drew and I started calling it "Tom's face". If nothing else, we had to ride it now so that we could tell Tom what it was like!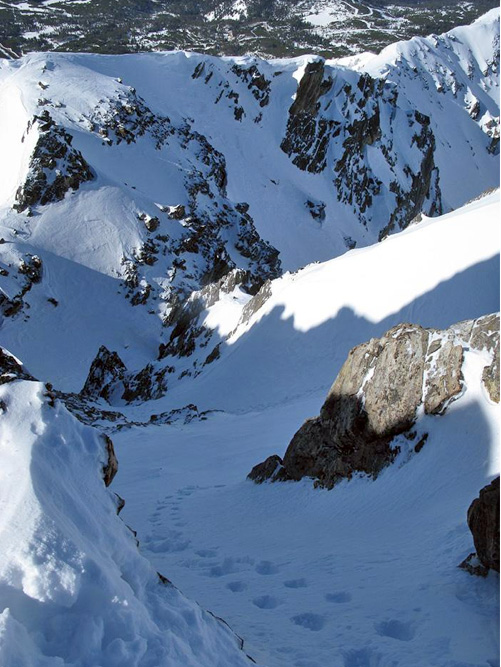 The climb up the backside is a fun adventure in and of itself. The route weaves around various snow plastered rockbands, past gendarmes and than ends in a short 5th class move and airy ridge to the summit.
We made calculated turns riding the upper snowfield. Snow was sun softened, smooth and creamy. Photo (above/below) by Drew Pogge.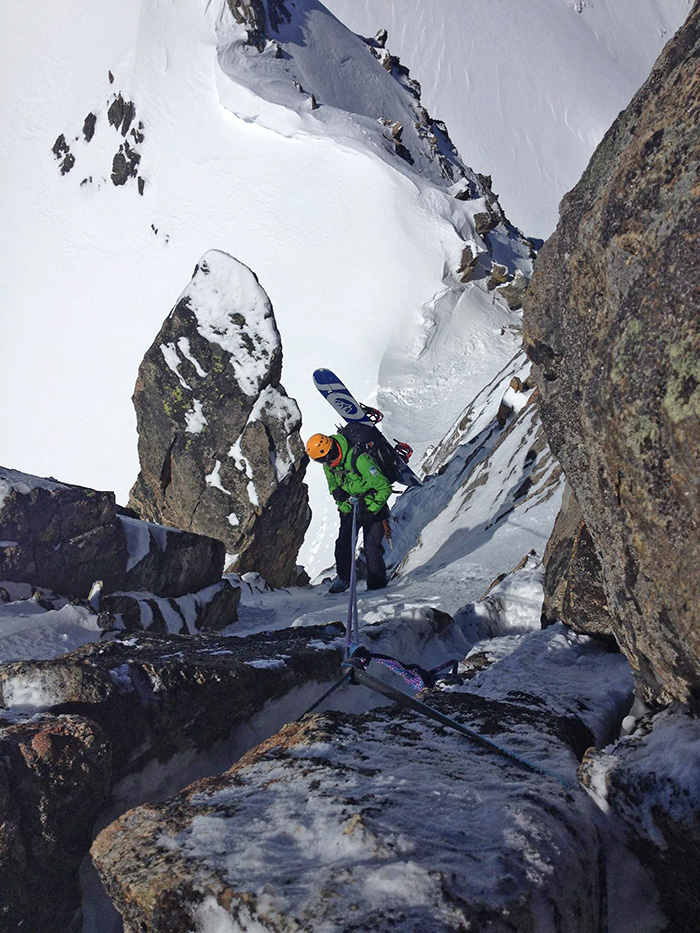 We anticipated that finding the anchor would be the trickiest part, as the rest was pretty straight forward: climb the peak, drop into the snowfield that dead ends in a huge cliff. After all, it was fairly committing as you had to ride down right to the very bottom of the snowfield, and there were some unknowns about the anchor. However, we knew the rock on Beehive peak's south face is good quality, with lots of featured cracks and blocks so we knew there had to be something solid. Via recon pictures and on the approach, we had identified a nice spot to pull up and assess how to get off, and when Drew skied up he quickly saw a perfect rock horn. One sling and 100 feet of rappelling later we were safety standing in the top of the Forth of July couloir. For once in life, things couldn't have worked out any better.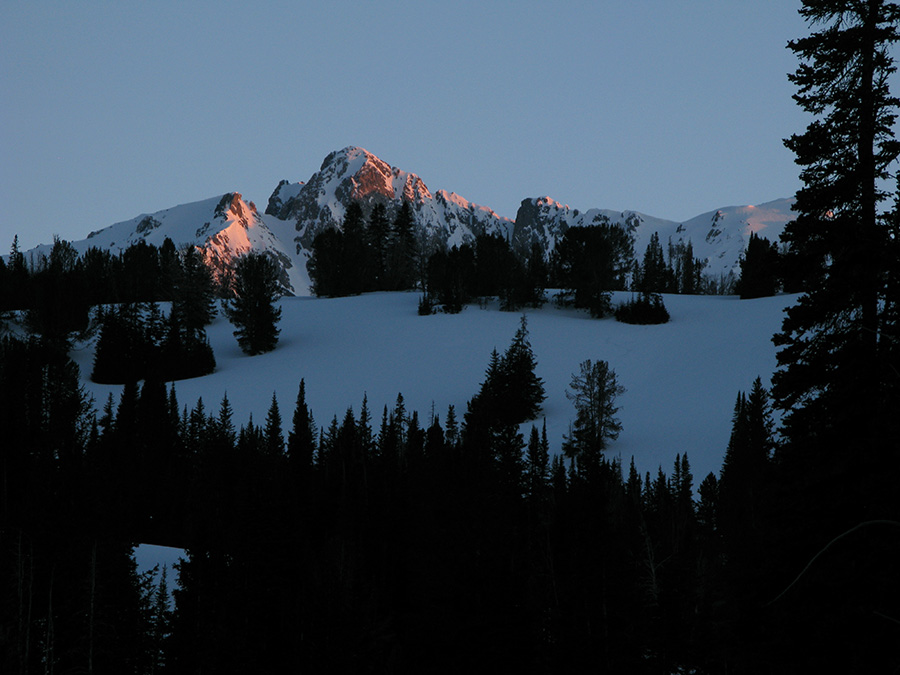 After we were down in the basin we did laugh looking back up because there wasn't a ton of riding off the top, and it almost seemed silly for all the effort and to risk falling off the south face just for a short amount of turns. However, this wasn't about attaining maximum vertical for the effort, or picking the line with the best fall line riding. It was more about the overall adventure – summiting a cool peak, making turns in a wild place, piecing it all together and figuring it all out.