Climbing skin performance can make or break your day in the backcountry. If your skins do not fit your splitboard, or they are not properly maintained, you are asking for trouble. At best a skin issue will waste your time and energy, and at worst, a skin issue can be down right dangerous if the problem slows you down too much.
How To Take Care Of Skins
Skin glue performs best when clean and dry. Avoid getting snow, dirt, pine needles, gravel or wax on the glue side of your skins. When you wax your splitboard be sure to scrape off excess wax before touring.
Some snow build up on your skin glue is inevitable, so it's crucial to stay on top of cleaning it off before it becomes an issue. Inspect your skins during transitions and clear off any built up snow before you pack away your skins for the descent.
One of the best ways to clean off snow is to scrape the glue side of the skin against the edge of your split ski. Stand ski upright in snow, hold one end of skin in each hand, and pull it across ski edge like a saw.
If the skin glue becomes frozen or iced up to the point of failure, scrape all the snow off with the 'saw technique' described above, then stash your skins inside your jacket for the next descent to help melt any remaining snow or ice.
If your skin glue fails on the way up, scrape all the snow off, then use a few wraps of duct tape, athletic tape or a ski strap to help stick the skin to your ski. The tape or strap is best placed just behind the heel of your split ski binding.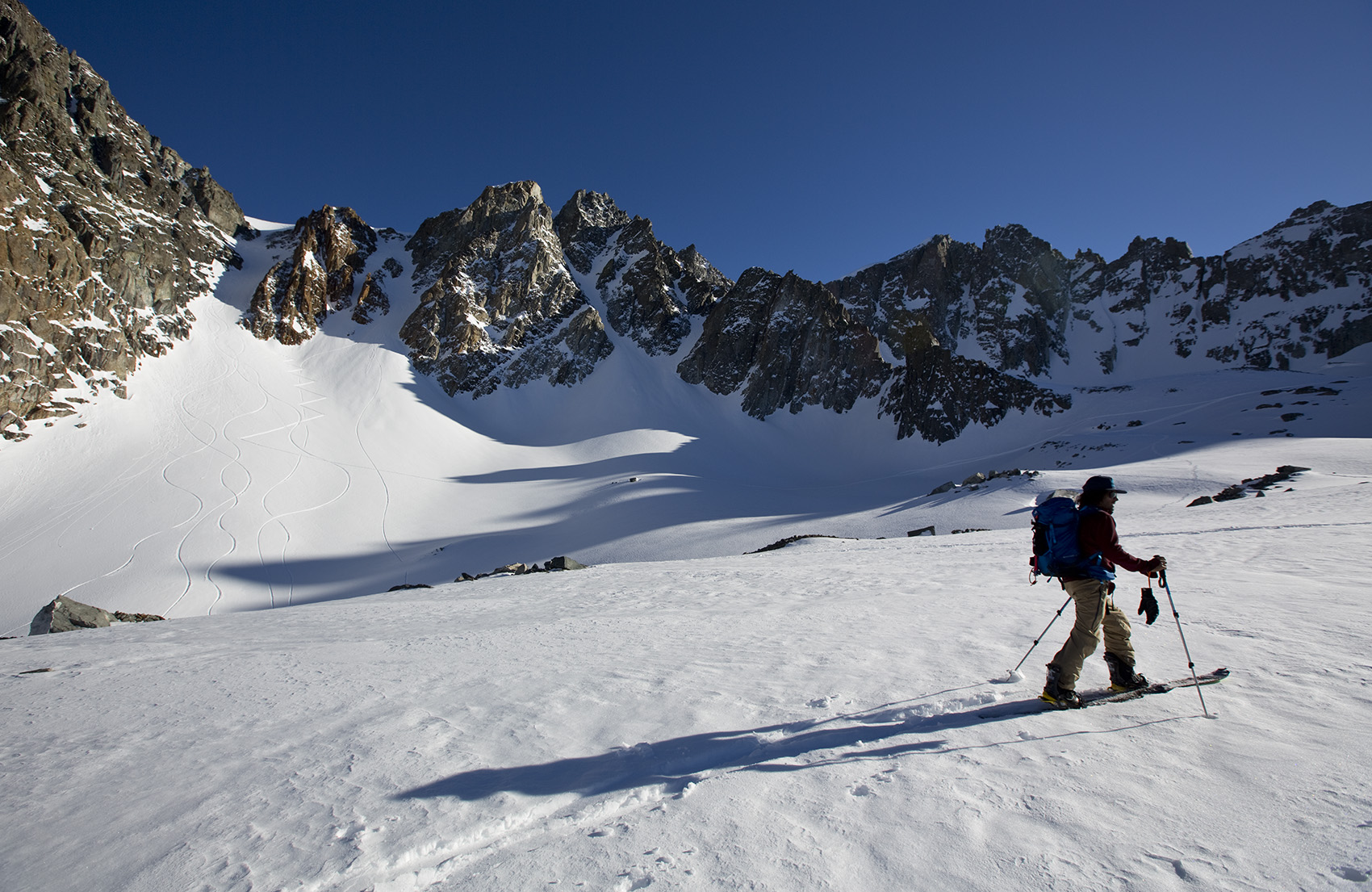 Skins and water do not mix well. If the skin plush gets wet it will cause snow to stick to the plush. Avoid skinning across puddles or open water. In wet snow conditions and on warm spring days it is advised to treat your skins with skin wax. Some skin wax like Black Diamond Glop Stopper can be applied in field, more robust waterproofing treatments will need to be applied the night before or ideally at the start of the season. Jones Nomad Pro skins are designed with a rubber backing to keep the skin from getting wet.
It's important to hang and dry skins after any use. Hang in a dust free area away from direct heat like a heater or wood stove. Dust, dirt and pet hair will shorten the life or your skin glue. Once skins are dry, pack them up and put them away as soon as possible.
For short term storage, skins can be folded up glue to glue and placed into their bag. For long term or summer storage, use the cheat sheets that come with the skins and make sure to store the bag in a cool, dry place. To use cheat sheets, fold skins over sheets with one side of skin adhered to each side of cheat sheet. Prolonged heat on skins will cause the skin glue to get gummy and stick to the wax on your splitboard base.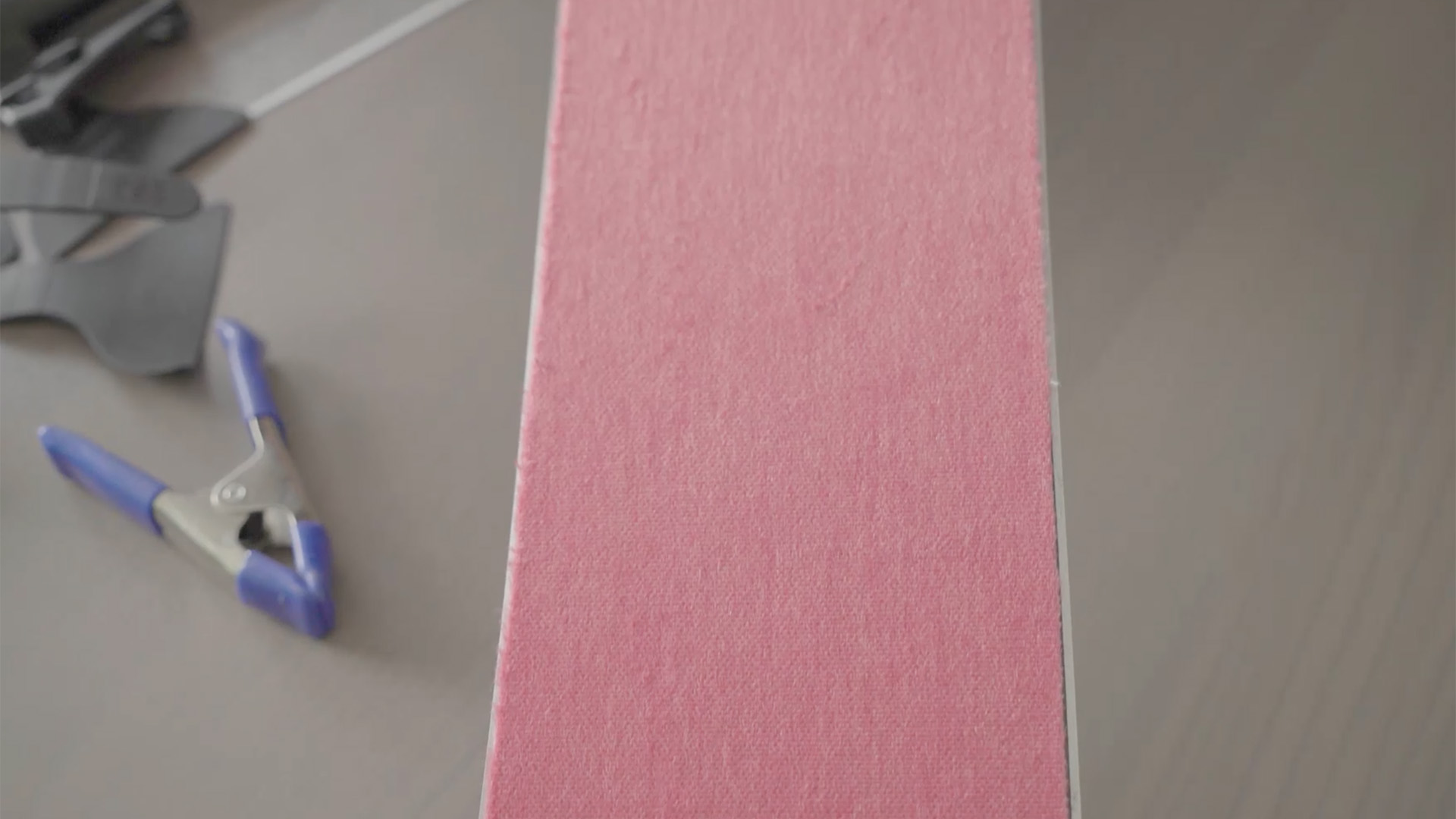 How To Adjust And Trim Your Skins
Skins climb best if the majority of the split ski is covered almost edge-to-edge with only the width of the edge exposed on each side. It is important to leave the edge exposed for edging on icy, firm snow. If your skins are too narrow and there is a lot of base showing on each side they may be slippery in certain snow conditions. If your skins are too wide and the edges are covered the skins may be slippery on firm snow.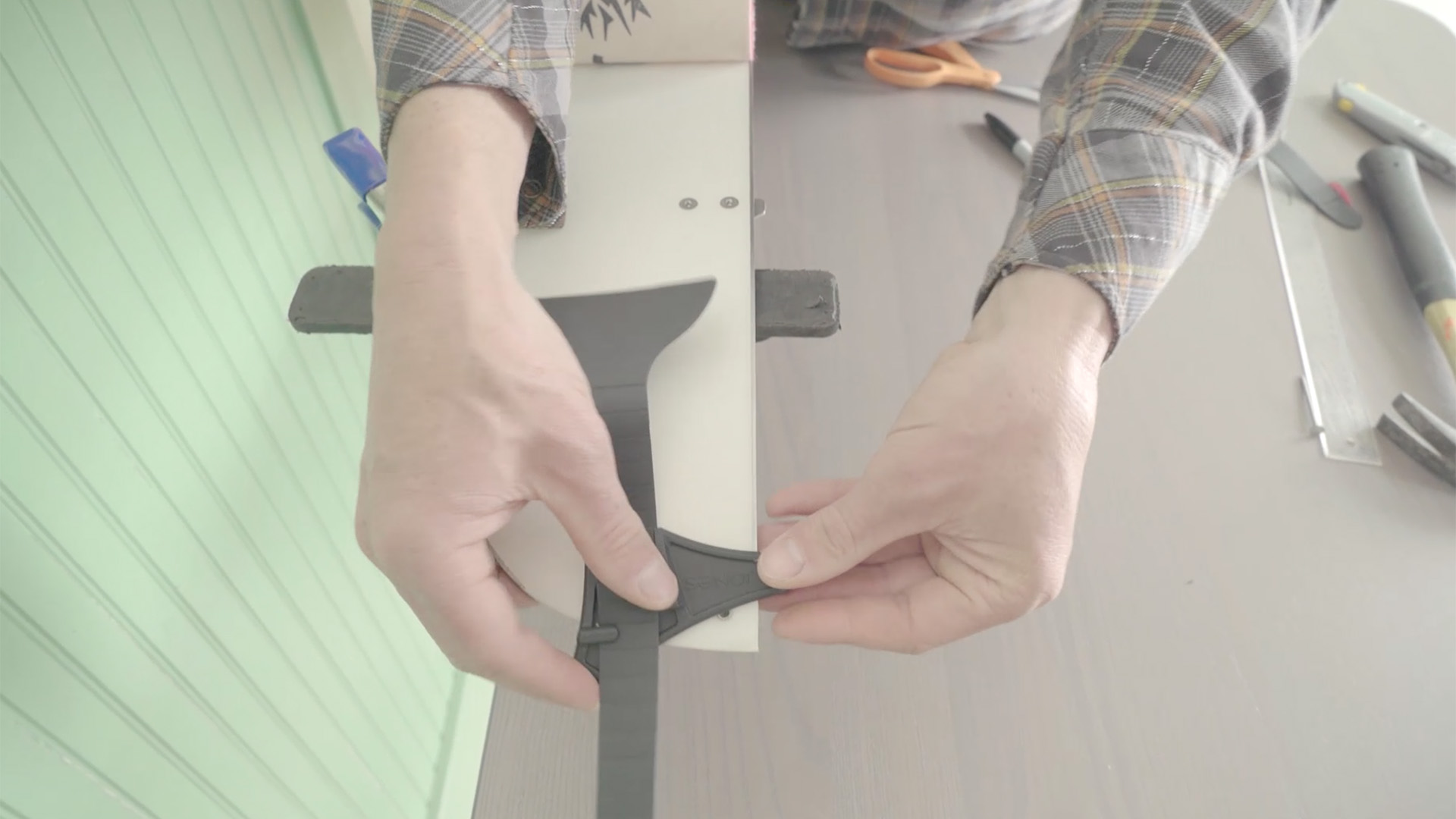 Tail clips work best when they require a little tension to fit on to your board. You don't want them so tight that they are pulling the skin off the base but a little tension can help the glue stick to the ski.
Adjusting Jones Pre-Cut Skins
Jones Nomad and Nomad Pro pre-cut skins are available in seven sizes to fit all 2017 Jones splitboards except the Discovery. The designated pre-cut skin size for a given splitboard model should not need trimming. Only the quick tension tail clip will require adjustment.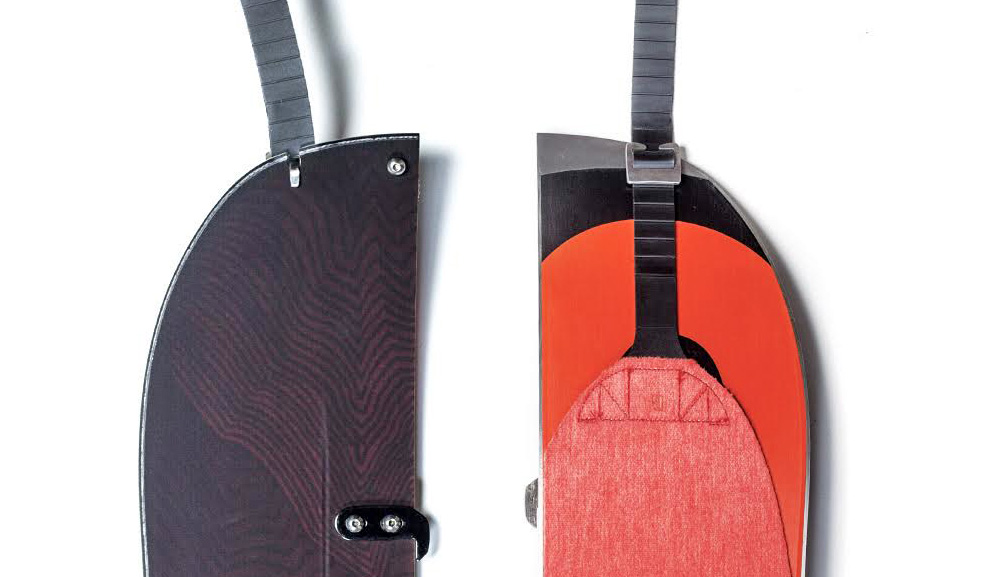 Follow these instructions for adjusting quick tension clip:
1 - Attach skin to splitboard nose.
2 - Slide clip along tail strap and position so clip is at bottom of notch in tail.
3 - Slide end of tail strap into clip, securing clip in place on tail strap.
4 - Stretch tail strap and fix clip into notch with medium tension. Clip/strap does not need a lot of tension, just enough to hold securely in notch.
Trimming and Adjusting Jones Universal Skins and Tail Clips
Jones Nomad and Nomad Pro Universal skins are trim-to-fit so they must be custom cut to your board before use.
Watch this video to learn how to trim Jones Universal skins and install the Jones Universal Tail Clip: