How do you raise the bar AND lower your impact?
That's the challenge, SHELTER, a new backcountry shred movie by Almo Films and Picture Organic tackles head on.
Shelter follows Mat Schaer, Jeremy Jones, Levi Luggen, Leo Taillefer and Thomas Delfino on a unique ski/splitboard adventure in the Alps. The five friends tour between mountain huts in the Swiss, French and Italian Alps searching for epic riding terrain while producing a film with as little environmental impact possible.
The film's concept was inspired by Mat, a Swiss ripper who's talents on a snowboard are only matched by his creativity and intelligence as an engineer and environmental activist. With his partners at Almo, Mat sought to produce a film that showcased groundbreaking snowboarding while inspiring real talk about how mountain explorers can adventure more sustainably and reduce the carbon footprint. SHELTER is their magnificent response to this challenge, a movie that pushes the limits of freestyle splitboarding using only public transportation and human power.
Thrilled to present both the full movie and a captivating interview with Mat about highlights from filming and his inspiration for the project. Settle in, read on and watch this movie NOW!
---
Interview with Mat Schaer
What was your inspiration for SHELTER?
My first goal was to combine two of my passions, snowboarding and environmental activism. I looked to do this by producing a movie that was not just entertaining, but that also carried an inspiring message that would help foster ideas about how we can all reduce our carbon footprint. Global awareness on Climate Change is spreading fast, and especially amongst younger generations, but there is still a knowledge gap between awareness and actually taking steps to reduce your contribution to global warming.
With Shelter, we hoped to show that we could still find "exotic" snowboarding adventures, and do what we loved to do the most, while reducing our emissions as much as possible. To accomplish that we prepared to use only public transportation to travel to the mountains and use only foot-power to access local alpine huts and explore new terrain surrounding these historic refuges.
Why were mountain huts the perfect setting for the movie?
We are lucky to have so many of these alpine huts in the Alps. Huts are part of the alpine patrimony and it always blows me away to think about how they were built in such remote places. The primary role of these huts is to give early access to the summits in spring and summer, but for us, we the the huts as an opportunity to access new backcountry jumps and lines by splitboard. Furthermore, the idea of riding from dawn to dusk, watching the sunset, then stepping straight inside to a hot meal and games for the rest of the evening sounds like the perfect holiday to me.

The plan was to visit the local mountains of each of the four main characters in the film, Levi, Léo, Thomas and myself. Two of us are Swiss and two are French so we each selected a few huts we wanted to go visit in our local area. In total we visited 10 huts of several different styles. Some huts were empty and we had to bring all of our food. Others were big, crowded huts with guardians serving you food the instant you get back inside from the day's shred session.
Describe one of the most unique huts that you visited.
After a difficult hike, we crossed a small pass right before dusk and saw this huge old building sitting in the middle of nowhere. It was the Grand Saint-Bernard Hospice, one of the most historic mountain refuges in the world. Monks have run the Saint-Bernard Hospice since 1050 A.D. There is a TON of history incrusted in the walls of the thousand year old monastery. Napoleon Bonaparte passed by the refuge with 50,000 soldiers on his way to fight the Austrians in the Aosta valley. It's a mythical place and it's incredible that it's only real purpose is to provide hospitality and shelter to hikers and skiers.
What are the snowboarding highlights of the movie for you?
There are so many good memories. The first one that comes to mind is the morning when we left the Grand Saint-Bernard Hospice super early to ride some couloirs at sunrise. It was absolutely stunning to be up there at sunrise. There were five of us including Jeremy and we found the perfect face where everyone could ride a different couloir right next to each other. The ascent was fun too because we skinned up the main chute and put in at least 40 short switchbacks to reach the top. Nobody wanted to carry their board and bootpack it.
Another highlight of our journey was two crevasse gap jumps that we found on the way up to the Vignettes Hut, near Arolla Switzerland. We stopped by the crevasse just to admire the beauty of the ice, and we realized that there were actually two landings downhill of the crevasse. We built two jumps at the spot and came back the next day to hit them. The first jump was a classic style booter that we all sessioned. The second jump was a massive gap over the crevasse. The spot was really impressive as we had built the jumps right on the edge of the crevasse. The jump session is featured in my favorite part of the film, the "glacier" segment.
And you hit those gigantic gaps on a splitboard?! How did that feel?
I hadn't really expected to hit such a big gap on my split, but when we found this crevasse spot I simply couldn't resist!
From the beginning of the project I had been concerned that I might break my splitboard while jumping and get stuck deep in the backcountry without a way out. But that definitely never happened. I didn't break anything during the entire project and I was definitely charging just as hard on my split as I do at the resort on my regular snowboard. I was really impressed by how robust my splitboard felt on the jumps.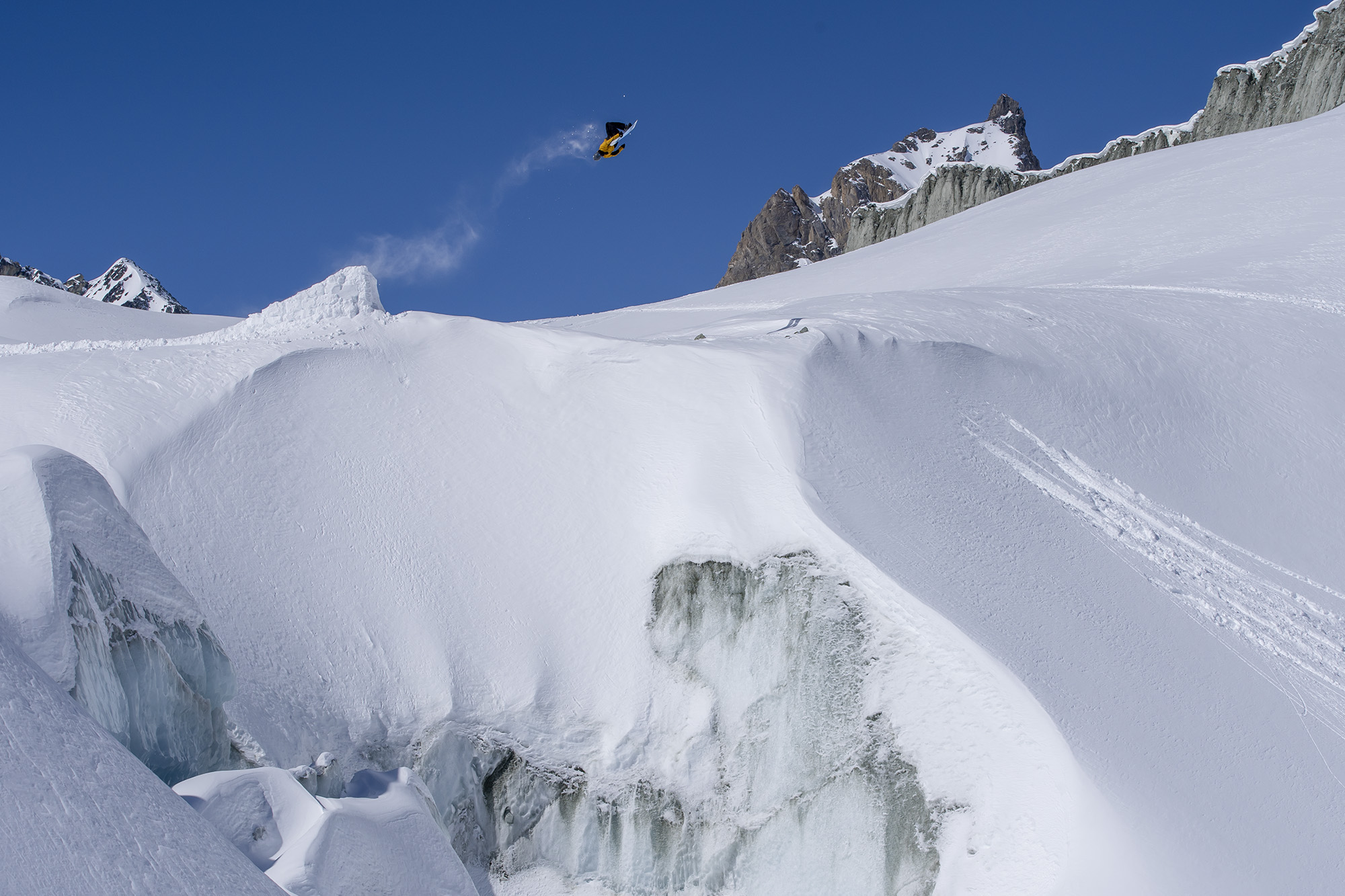 Photo by Vernon Deck
The technical freestyle that Mat throws down on a splitboard in SHELTER is like nothing I've seen before. – Jeremy Jones
Did you witness any effects of Climate Change first hand at the huts?
The most striking effects we saw were in looking at old photos of the huts. Many of the huts had been built right at the bottom of a glacier and they were now hundreds of meters away.
We also experienced some unusual snow and weather conditions. In February, the Alps got hit with a strong high-pressure system that brought four consecutive weeks of sunshine and high temperatures. During the warm up we saw a massive wet slide, a phenomenon that typically occurs in spring, not during winter time. The occurrence of such unusual weather patterns will increase due to climate change.
Which huts did you visit with Jeremy and why was it special to have him along on the trip?
As the founder of Protect Our Winters, Jeremy was a big inspiration for this project. It was super interesting to talk with him about climate issues while touring or during the evenings in the huts.
We also really appreciated having Jeremy in the crew because he is a pioneer of foot-powered missions to snowboard dream lines - which is exactly what we wanted to do with Shelter. He joined us for a week of touring from Val Ferret to the Grand Saint-Bernard Hospice. His limitless motivation and energy, his knowledge of the snowpack, his freeriding skills, and his positivity and calm even during difficult situations made him the perfect expedition partner for us.
Why is staying at a hut such a profound experience for a passionate backcountry rider?
Sleeping in a hut typically offers access to terrain that you couldn't reach as easily on a day tour. And this remote terrain is usually holding untracked pow long after the last snowfall. But it's also about so much more than just the riding. When you stay at a hut you will likely meet people that share the same passions and enjoy personal connections that are much harder to find in your daily life. It's really nice to turn your phone off and get disconnected at a hut. It gives you more space to interact with people and enjoy the surrounding beauty of the mountains.
Looking back, did you accomplish your goal with Shelter?
Absolutely! I calculated that my carbon footprint from shooting Shelter was 100x smaller than my average winter film footprint. And despite spending more time on the trains and buses than in cars, I had one of my best seasons yet and discovered so much amazing new snowboarding terrain. We were also excited to see that the film was an inspiration beyond the snowboarding community and showed everyone who saw it that no matter what sport you are into, there are ways to reduce your impact on the planet without sacrificing fun and adventure.